As a race, we Filipinos are fiercely proud and protective of our native cuisine. Though some people may find our local eats weird, gross, or simply unappetizing looking, we stubbornly insist that this is not the case. But come to think of it, our food tends to lack some of the visual appeal of some other Asian cuisines (the Japanese style of presentation certainly comes to mind).  And we do have some off-the-wall food as far as a lot of non-natives are concerned(hello, balut and dinuguan, I'm talking about you). Only we can take genuine delight in slurping the hot juice out of an egg with a duck embryo, and not too many can relate to our deep fondness for blood stew. Hey, we like other weird food, like kefir, too.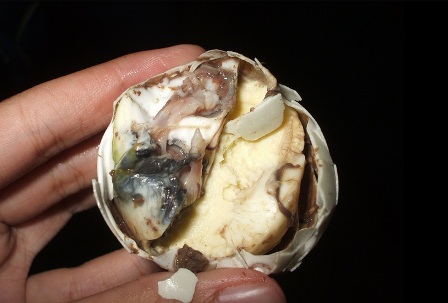 Nor is our food as recognizable as, say, Italian food. I mean, you only need to read the words fettuccini, spaghetti, or tiramisu and you'll get an idea of where the stuff must come from. Try saying sisigto a foreigner, and you will be met with a blank stare. At once, you are aghast that this fellow you're talking to does not have even the slightest idea that the word you just uttered is enough to send hordes of people to your house once they get a whiff of what you'll be serving.
It's a sad thing that Filipino food gets lumped with the freaky side of the food world. Ask any traveler what they know about our food, and most likely they'll say, "Oh yeah. The duck embryos.Yeah man, I don't get it." Blame it on reality shows, really. But we both know that they don't know what they're missing, right?
Just like any full-blooded Pinoy, you will stand by and defend your favorite dish with the same zeal as Manny Pacquiao when he beats his opponents to a pulp. Last time, we learned what adobo, lechon, sizzling sisig and chicken inasal say about you if these are your favorite dishes. But if these dishes don't inspire you to ask for an extra cup of rice, we have more, starting with
Bulalo: "I seek comfort, and I'm a sucker for warm hugs."
Though the country experiences perennial heat, nothing can take away the pleasure of sipping hot bulalo soup made from excellent Batangas beef. Some Manileños will even drive for two hours to Tagaytay just to have a taste of the authentic stuff. The broth is rich in flavor due to hours of boiling the meat and bones with nothing more than some salt and pepper to flavor it, and some halved sweet corn cobs and cabbages thrown in the mix. What you get is something that is so comforting, it's actually the best food there is when going through a bad time in your life. It's like a warm hug in a bowl.Your boss has been mean to you again? Have some bulalo.Rough breakup? Grab a spoon, and here, have the marrow, that's the best part.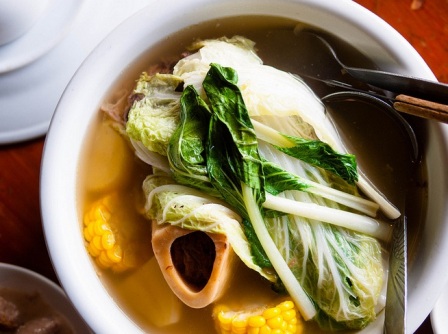 If you love bulalo, you are someone who constantly seeks comfort and assurance while living in this cold, cruel world. You are a softie at heart, and you're prone to shedding a tear or two over the latest Nicholas Sparks novel. Why, it's even the perfect dish while watching The Notebook. The next time you feel blue or about to watch Ryan Gosling and Rachel McAdams for the umpteenth time on DVD, be sure to arm yourself with a packet of tissues and a bowl of bulalo. It'll do you good.
Chicken Tinola: "I may look like a nice guy, but make no mistake, I will knock you out if I have to."
There's a reason why this is a favorite of Manny Pacquiao. Just like the Pacman, tinolalooks like a humble and unassuming dish. Basically,it's boiled chicken with a couple of slices of green papaya, and the broth is flavored with ginger. Sounds basic to the point of boring, right? But go deeper and you find the ginger that gives it a zing and brightens the flavor of this simple dish. Before you know it, you've eaten several cups of rice in quick succession.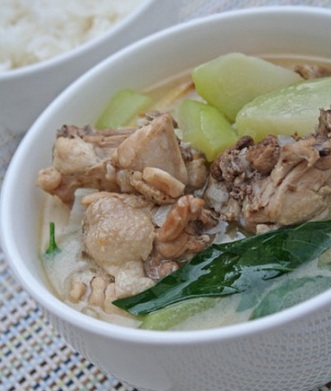 If you love tinola, you're basically a superhero in disguise—you don't attract attention, you blend into the background. But you will throw down when you are provoked, or when the people you love are in need of protection. Whether it's with a well-timed comeback to a catty remark, or a well-placed punch to the face, you deliver it with panache and enough force to stun your opponent. And once again, you win this round.
Sinigang: "I will charm you with my awkwardness."
This is a stew of prawns, fish or pork traditionally soured by fruits like tomatoes, tamarind, guavas or unripe mangoes. Nowadays you can get the same souring effect with a packet of instant sinigang mix, a staple in every savvy Filipino overseas worker's bursting-at-the-seams luggage. Any self-respecting Pinoy knows that this stew is best eaten with rice. So don't even try it with bread. Just don't.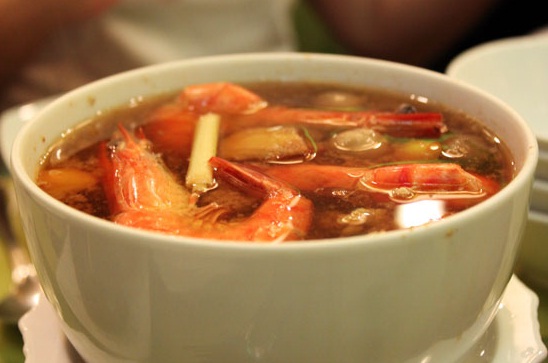 The sour flavor might take a bit of getting used to for foreigners: just like you, sinigang aficionado. One might have to get past your slightly nerdy exterior, your awkward one-liners, and your tendency to giggle at inappropriate moments to see what a gem you really are.  People might begin to describe you as adorkable, or quirky, or ZooeyDeschanel-like.
Halo-halo: "I am multi-faceted, so don't you dare put a label on me."
Beyonce. Justin Timberlake. Aside from being successful and ridiculously wealthy, these celebrities have something else in common: they are multi-talented. Witness Beyonce as she belts out a high note while busting out some fierce moves—then the next time you see her, she's starring in a film, delivering a performance that is so haunting, so ferociously good that you can't help but bow down to Queen B. Or Justin Timberlake, a man who has multiple slashes under his name (singer/actor/dancer/producer/designer) and is actually great at every single one of them.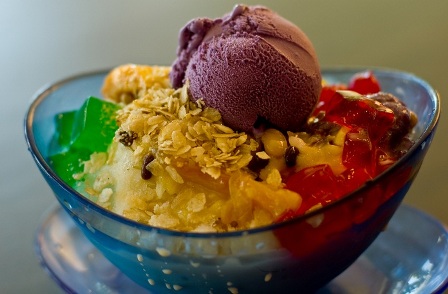 Some people are just multi-faceted that way, just like you and your beloved halo-halo.The only dessert on this list, halo-halo translates to mix-mix, which is an accurate depiction of our cuisine, a mix of Spanish, Chinese, Japanese, Malaysian and American influences. All these merge to create dishes that are wildly inventive and rich in flavor.
Upon trying a glass of halo-halo, famous chef and author Anthony Bourdaindescribed it as "making no goddamned sense, but I love it. It's oddly beautiful." Indeed. It's sweetened beans, jello, chickpeas and sweetened bananas buried under shaved ice, topped with milk, purple yam ice cream and flan. Wait, what? Beans? Are we making a burrito? What is it? Is it an appetizer? A dessert? But once you mix it altogether and eat a cold spoonful…aah, sublime.
Just like your favorite dessert, you are a blend of talent and knowledge. You are the person who has actually read all of Tolkien's works, yet instead of being relegated to sit at the table where guys play Magic the Gathering, you're actually the most popular guy in town. You can sing like Michael Buble and dance like Usher, but you also enjoy writing snarky commentary on world issues in your blog. You are what your mother proudly calls a well-rounded person, and all the other mothers will make little hints about having a daughter that you might want to meet (nudge, nudge).
So there you have it. You are what you eat, and your choice of Filipino food certainly says a lot about you. I do hope it says only good things though. Or I can shut up now and eat. All this talk about food is making me hungry.
Pass the rice, please.